The age-old marketing tactic of free is never completely free. Surprisingly, this tactic works even now after decades of overusing it. For most of the free apps or products in the market, you essentially end up paying either with your time or data or money and sometimes you don't even realize it. Eg: You pay with your time and data for using Instagram. Free in Digital Signage Software works big time. Just look at the number of keyword searches for "Free Digital Signage Software", and you'll be amazed. And in fact, that number prompted me to write this blog.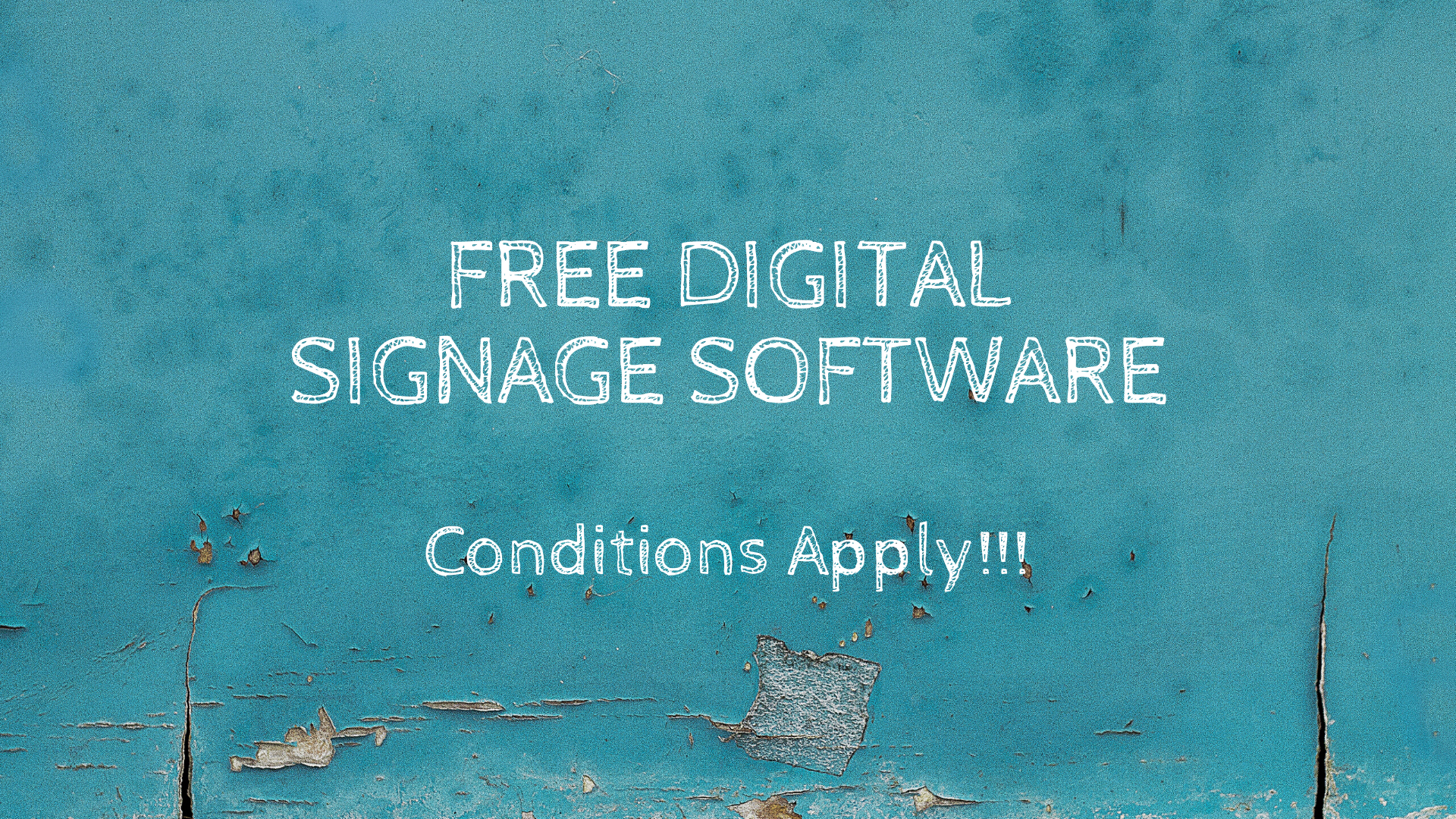 There are several if and buts for any free digital signage software. You get what you pay for and if lucky sometimes more than what you pay for. It is important to be aware of all the masked conditions of free or almost free digital signage software to help you decide if it is the right fit for you.
Most Signage software offers free software for a month with the complete set of features. This will be enough time for anyone to see if it would be the right fit. Some even go to the extent of saying it is free forever but keeps a cap on the number of displays or the data storage. Eventually, it's never free completely forever else the business has to shut shop.
Points to be aware of before selecting any Free Digital Signage Software
Data Storage Limit: Is there a limit on the data storage in Cloud? If you are running a network of 10 displays, how long can you use a 500MB storage limit?
Display Limit: Limiting the number of Displays that can be added. If someone gives the software for free for 1 display with limited features is it really that beneficial?
Only the Basics are free: Just a few basic features might be free and the rest might need you to be generous with your purse
Limited Support: Support Is the support provided for free? Mostly Not or the support might be too slow. 24*7 support is essential to fix critical issues.
Software Relevance: Is the software development cycle active? This is very important otherwise the stability of the software will be affected. Without an active development cycle the software becomes obsolete in no time.
Consultation on Signage Project: Do they provide consultation to help choose the right hardware and other elements for your signage project? Signage Software is just one part of the offering and without the right set of hardware, no software can do wonders.
Validity of the Free Software: Make sure that the free software offered is valid for at least a year. Sudden changes in the terms and conditions or the price will be a shocker. Once you have set up the signage network and it starts working, you would not want to change it with new software and few companies take advantage of this.
Reviews: Do check the reviews of the free signage software on software review sites like Capterra or G2 not on their website. Everyone promotes the best on their website
Test and Compare: Compare the free software with paid software throughout your testing period. This will actually make you realise what you might be missing out on.
Network Size of your project: The bigger your Digital Signage network the keener your evaluation needs to be. The risks of choosing incorrect software are super high. Revamping to a new provider will be a huge pain. Better safe than sorry.
Even if Free sounds too enticing, it may not be the right fit for everyone. Go ahead with Free Digital Signage software if signage is not a critical part of your business and you have a limited budget.
Zeetaminds offers the most advanced features at a starting price of 7 USD/Display/Month. You can try Zeetaminds Signage Software for Free for a month on any number of displays to know if we are the right fit for you.