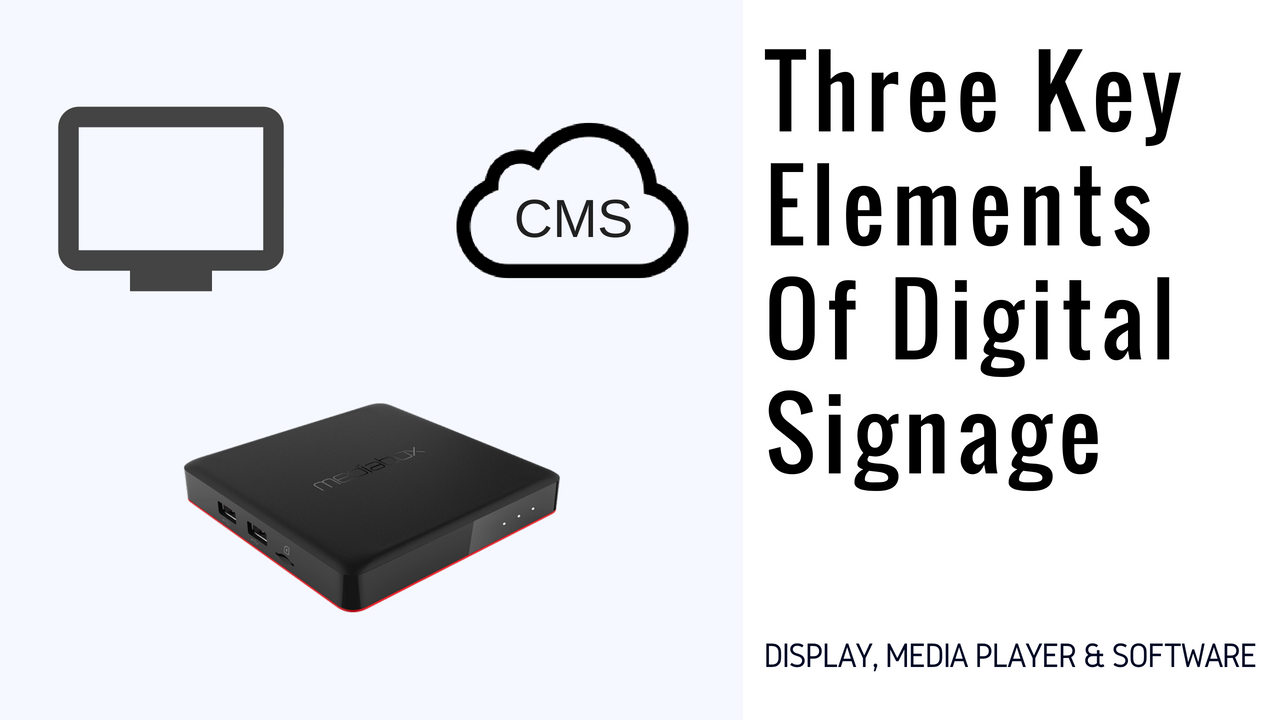 The Key Elements of Digital Signage System are:
Display
Media Player
Digital Signage Software (Content Management System)
Display: Major part of the investment goes into purchasing a Display. There are several options for displays that fit the needs of every reasonable budget and application without compromising on the quality.  Unless you have a display already or under an extremely tight budget, better choose a commercial display. A commercial display usually comes with a 3-year warranty, has greater brightness range, built for tough conditions and longer operational hours.
Digital Signage Media Player:

Media Player is 

the hardware box that takes instructions from the CMS and plays the media files accordingly. One can choose among Android, Windows,  Rasberry Pi, Chrombit, Fire-stick etc Android boxes are considered the most cost-effective among the lot. Go with branded Android Media Player with good support and warranty.

Digital Signage Software: Signage Software is the most important element of the Digital Signage network. 

Selecting the right software will make your entire investment on the hardware justified. Digital Signage Software is a combination of a Player Software that goes into the Digital Signage Media player and the CMS (Content Management System) through which the content is managed across the displays. Go with a Digital Signage Software vendor with reliable technology, good reviews and decent features like social media integration, layouts with smooth transitions, RSS, Multi-User feature, Content expiry, Proof Of Play, Preview, Powerpoint support, HTML support, Display health status etc to name a few.

 Internet access is essential for a Cloud-Based CMS. Refer to the 10 Pointer checklist for choosing a Digital signage Software provider.