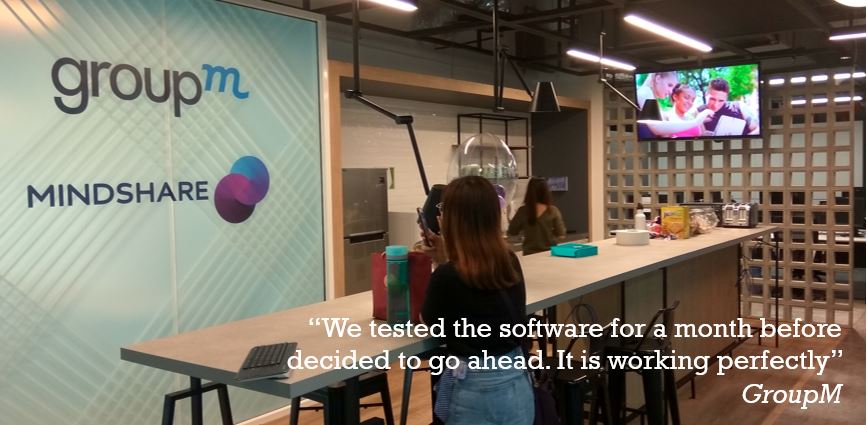 The Brand: GroupM is the world's largest advertising media company with 400 offices in 100 countries.
Client: GroupM
Location: Malaysia
Hardware: Samsung 55 inch Commercial Display
MediaBox: ViewSonic Digital Signage player – NMP580W (HDMI IN)
Software: Zeetaminds Digital Signage Platform
Integrator: Votigo Group
Requirement: GroupM corporate office in Malaysia needed a robust signage software which allows a combination of entertainment TV with informative content on their network of screens. GroupM's key feature requirements are:
The ability of Signage software to show satellite TV and seamlessly integrate with signage content.

Proof Of Play reports at playlist and media level

Multi-User feature

Comprehensive Playlist schedules

On-premise Installation
Evaluation: A thorough evaluation procedure followed by standard testing, put Zeetaminds & Votigo in the race for GroupM's digital signage project. GroupM requested Zeetaminds to add the ability to generate Proof Of Play reports at playlist level instead of just for media; which was added in just 3 days. GroupM also wanted Zeetaminds to customize some aspects of playlist scheduler which were addressed immediately. This quick customization along with the stability of the software impressed the client. After a POC of 4 weeks, the signage project was awarded to Zeetaminds & Votigo.
Implementation: Votigo took the entire responsibility of procuring the hardware (Samsung Displays and Viewsonic Media boxes), setting up the on-premise servers, installing the displays and training GroupM's team on Zeetaminds software usage. After the successful installation of the entire signage system, the display network at groupm has been running successfully from the last 9 months. No issues reported till date.
Few Implementation Images:

"We tested the software for a month before we decided to go ahead. It is working perfectly" IT department, Group M