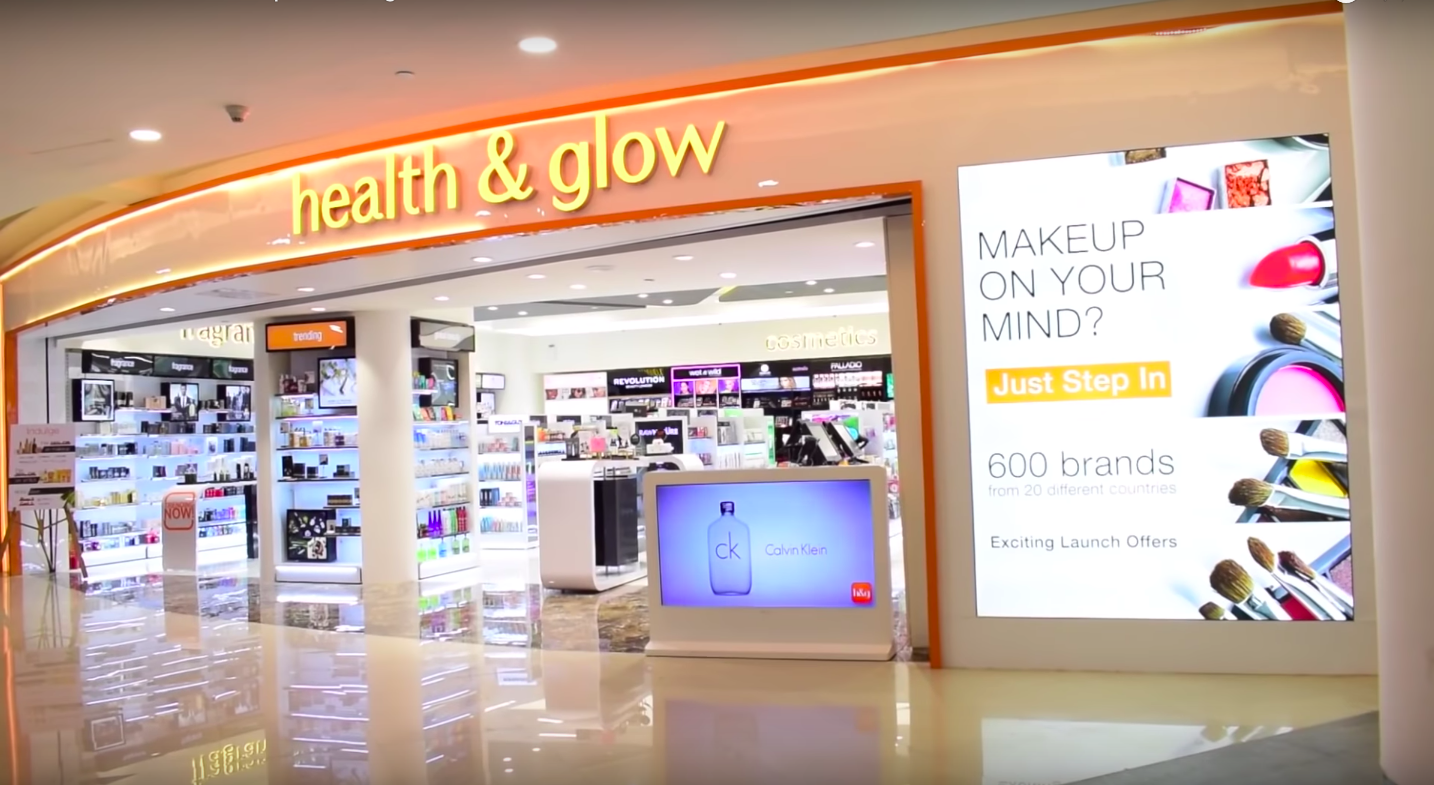 The Brand: health & glow is India's most beloved Retail chain for all Beauty and Personal Care needs. With a pan India presence of 150+ stores across India, it is a go-to destination for all beauty needs.
Client: health & glow
Locations: 200 + (Pan India)
Display: LG 55 inch Commercial Display
MediaBox: Amkette Evo TV3 (Android Media Box)
Software: Zeetaminds Digital Signage Platform
Segment: Retail
Need: With an aim to provide a standard in-store experience and to engage the audience inside the store, Digital Signage as a medium of engagement was chosen. h&g was in search of an easy to use software to broadcast promotions and informative videos to the displays across pan India. Most stores have 2 displays, one at the billing counter, that mainly showcases beauty product usage videos along with few promotions and one at the entrance facing outside, to entice the audience into the store.  Hence, h&g expected top-notch system stability with user-based access control and easy grouping of displays to achieve their objective. 
Evaluation: h&g evaluated 5 different digital signage software providers and thoroughly tested the signage platforms for a couple of weeks, before finalizing on Zeetaminds for POC (Proof Of Concept). After successful POC in an actual store, h&g chose Zeetaminds as it is cost-effective, easy to use with all essential features and the most robust among all the available options.
Implementation: Installation of the display was done by LG. Amkette ships the media box with preloaded Zeetaminds player software. This ensures a plug and play mechanism. The box once connected to the display via HDMI and provided with internet using LAN cable/wifi finishes the setup. The control goes to the CMS operator to control the display and schedule content from head office. Zeetaminds software coupled with Amkette media box and LG display ensured successful operation of the display network pan India without any issues since the implementation.
We are extremely happy with the high-quality support provided by Zeetaminds. Their signage software has been flawless in managing our display network and met all our standards. — Manjunath (Assistant Manager IT) – health&glow